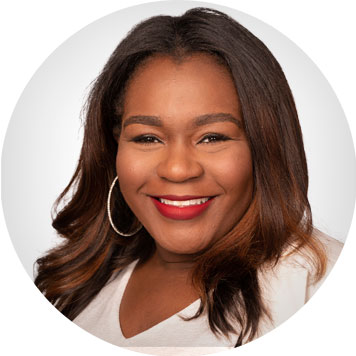 Jovia A. Radix-Seaborough advises clients across portfolios at Kasirer on a variety of legislative matters – from monitoring and interpreting City Council legislation to advocating or opposing legislative initiatives. She was recognized by City & State as among the 2021 "Telecommunications Power 50," and the 2020 "Brooklyn Power 50."
Jovia comes to Kasirer after earning her Juris Doctorate from the Maurice A. Deane School of Law in Hempstead, New York. She is admitted to the New York State Bar. Prior to pursuing her Juris Doctorate, Jovia served as the Brooklyn Regional Representative to Governor Andrew M. Cuomo.
Jovia has served in various government and political positions and has served her community in various levels of government. In addition, Jovia assists her family in the direction and management of a tutoring program facilitated by the Barbados Ex Police Association. Jovia is the Vice-President of the Thomas Jefferson Democratic Club Young Democrats.
A native of Brooklyn, Jovia received her Master's in Public Administration, with distinction, from Long Island University's Brooklyn Campus and a BA in Political Science from the University of Pittsburgh.
Awards
She was recognized by City & State as among the 2021 "Telecommunications Power 50," and "Brooklyn Power 100," and was an honoree of the "Power of Diversity: Black 100." She was featured in Crain's New York's "Notable Black Leaders 2022."